Characters as first shown.
MAIN CHARACTERS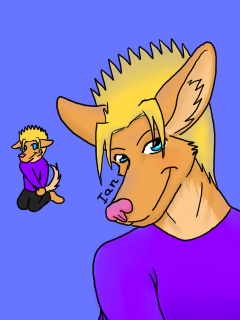 Name: ??? "Ian" Sorrow (Adrian)
Age: 16
Birthday: February 29, 1992
Height: 5' 9"
Profession: Student (11th Grade)
Species: Dog
First Appearance: #01. You Were Expecting Someone Serious?
Mr. Sorrow recently came to the city. Nothing is known of him, except he wants to start a new life in Salvation, that he is apparently in High School, and that he lives alone in an apartment. He recently got a job at the X-Raunt and will be Rick's new co-worker. He may be developing a crush on him. He's very quiet but seems to long for companionship. He's quite emotional, although he tries to stifle it. It can be assumed that he dislikes being alone and likes being shown kindness. His favorite activity is unknown.
Personal Quote:
"I hope this one won't turn into a hellhole."
Name: Ri'chard Landow
Age: 18
Birthday: March 25, 1990
Height: 5' 11"
Profession: Graphic Designer/Cashier
Species: Dog
First Appearance: #02. Too Old For Wet Dreams
Rick was born into the prominent Landow family, a rich Mid-Western family with various deals in business. He was spoiled as a child, but after convincing his parents to let him go to public school, he learned modesty and other values. There he also discovered his aptitude for art. When he told his parents of his new goal in life, they somewhat indulged, but were more interested in trying to stifle his creativity. Soon after turning eighteen, Rick packed his clothes and left to Salvation, to prove to his parents his new goal in life was practical. He refuses to use the money from the bank account his parents set up for him unless he has an absolute need. He promised himself to pay back the money he took. Rick is practical and pessimistic at times. He likes video games, mostly strategy and adventure. He got a new job at the X-Raunt to help pay for new expenses, like keeping Alex. He has low alcohol tolerance. His favorite activity is hanging out with those he loves, followed closely by drawing.
Personal Quote:
"Because the universe hates me or something."
Name: Alexis

Age: Unknown (estimated at 14)

Birthday: Unknown (celebrated August 3) Year est. at 1993

Height: 5' 7"

Profession: Student (10th Grade)

Species: Cat

First Appearance: #03. Too Much SCGMD3

Alex's background is unknown. She was found on Rick's doorstep one day, beaten and in terrible condition. She was taken to the hospital and they tried to check her records. She had none. Alex could only remember her name. Head trauma gave her retrograde amnesia. She may not remember specific details about her past, but she may often find herself able to do something she never knew she was able to. Rick opted to keep Alex, and is her temporary foster father. Alex started a new life with Rick and now she is bright and energetic, yet a bit caustic. Her positive and somewhat playful demeanor underlies serious problems she can still feel, but not remember. She doesn't know where she wants to go in the future, but she has an aptitude for writing she has not considered yet. Alex likes RPGs and party games, and hates to be alone. She usually is hanging out with Rick, other friends, IMing online or skating at Val's rink. She CAN NOT be alone in the dark. She has a high alcohol tolerance and likes tea. Her favorite activity is cooking with Rick, closely followed by rollerskating and writing.

Personal Quote:

"What with me being able to do all this random stuff, I feel like Kirby, except it's at random and I don't have to suck things to get the powers.... Don't you DARE mentally picture that!"




Name: Valarie Reid

Age: 20

Birthday: May 17, 1988

Height: 5'8"

Profession: Manager (of a Roller Rink)

Species: Red Fox

First Appearance: #10. Sentiment

Valarie was the first person to help Rick when he came to Salvation. She let him stay with her for a while, and she and Michael helped him get on his feet. She runs a roller rink in town. She loves to sing and is waiting for her big break. In Alex's eyes, Valarie is a sort of aunt. Valarie is a caring person with motherly attributes, people usually go to her for advice. She's young at heart but experienced in mind. She loves children, and seeing them moving and playing (and not watching TV), which is part of her reason for working at Salvation Skate, a.k.a "The Rink". One day she hopes to buy it from the family that owns it. She hangs out with Michael often. Their similarity and close proximity to each other generally leads people to falsely assume that they're a couple. Are they? Not really. It's complicated, she'll say. Secretly, Val wants a vuvuzela for practical joke purposes. She likes skating, happy people, seeing people be active, singing, outdoors, dancing and ice cream (her one true weakness). She dislikes those who don't attempt to help themselves and live off the sympathy of others, couch potatoes and wastefulness. Her favorite activity is working at the Rink and interacting with the various visitors.

Personal Quote:

"Meh, can't really give you some new advice on that'n, just somethin' cliche like: 'looks can be deceiving'."




Name: Ethan Brevard

Age: 16

Birthday: October 5, 1992

Height: 5' 11"

Profession: Student (10th Grade); Resident Genius

Species: Gray Wolf

First Appearance: #04. Become A Genius and Get A Complementary Mustang Free

Ethan is Alex's tutor and one of her best friends. He was the second friend she made since going to school. He considers himself more of a thinker than a doer, and he has many awards. He at first comes of as snobbish and elitist. (He's smarter than you are, and he'll let you know it) For those that weather the first impression, and have an "acceptable level" of intelligence, Ethan proves a loyal friend, although quiet and a bit out of touch. He was offered the chance to skip grades every year, but he decided to take things slow. He has an older brother, Ethan, currently serving in the United States military. The two brothers love each other dearly. He hands out with Alex frequently ... for study purposes he says. Ethan likes skateboarding, learning and reading. He dislikes those who abuse power, television, being called effeminate, humans, and most fictitious works. His favorite activity is working on cars, something he and his brother used to do before Evan was shipped overseas.

Quotes:

"Ha, there are people much worse than me. But, sadly, no one nearly as smart."



Name: Samuel Lombard

Age: 18

Birthday: June 3, 1990

Profession: Computer Programmer

Height: 6' 2" (6' 7" counting the top feathers)

Species: Bird

First Appearance: #15. Way To Change The Subject

Sam is Rick's (self proclaimed) best friend. He likes to body build, but is totally inept. He may look muscular, but he's skin and bones. He hates stuffing his wings in shirts, therefore forgoing them. If not for Rick, Alex and the others, he would've become a nudist. He is impudent and can't read people well. That's why most people disassociate themselves with him. As a result Sam will try to ingratiate himself with others. He craves attention, but is extremely loyal. He tends to disappear and reappear sporadically, the shortest being three days, the longest two months. He claims to be a computer programmer, and shows skill, but seems to be too transient to accomplish his goals. Sam likes flying, and hanging out with his friends. He dislikes being called weak, being tied down, and taking responsibility for his actions. His favorite activity is annoying Rick.

Personal Quote:

"Maybe you should all make a Kill Sam Club or something. Heh, groupies."




Name: Veronica Ray

Age: 15

Birthday: February 19, 1993

Height: 5' 7"

Profession: Student (10th Grade)

Species: Dog

First Appearance: #05. Get Outta Her [Class]Room

Veronica is the first friend Alex made in school, she was the student ambassador that showed her around. Veronica is very friendly and gets along with most anyone. She curses often, but only around certain friends, not including Alex. Veronica is very popular and loves to gossip and tell stories. She is second in class rank, behind the genius wolf Ethan, and tries in vain to surpass him. She's also the head cheerleader at Salvation High. She wanted to be a fashion designer, but decided that managing big businesses was more her style. She does hair on the side, too. She likes to text, to get clothes, she designs, and she loves parties and monitoring stocks and the economic world. She hates being out of the loop, people with "ugly" personalities, housework and people who unjustly blame others. She has bright dreams, despite not having much and is dabbling in the stock market to change this fact. Her favorite activity is experimenting with new hairstyles.

Personal Quote:

"I'm coming for you Ethan, I won't be second for long!"




Name: Michael Richardson

Age: 21

Birthday: April 30, 1987

Profession: Musician

Height: 6' 3"

Species: Tiger

First Appearance: #10. Sentiment

Michael is Rick's second friend in Salvation. He was there when Valarie brought Rick home and together they helped get him off on his feet. Rick jokingly calls Michael, Tony, and it's a constant source of annoyance (along with those God awful cereal jokes). Michael is a musician and a music teacher. He shares his house with his grandmother. He has had a few labeling opportunities, but is waiting to be recognized by bigger labels. In Alex's eyes, Michael is a sort of uncle. Michael is a strong caring person with fatherly attributes, people go to him for advice if they don't head to Val. He hangs out with Valarie often, but he attests that it is not a relationship beyond friendship. Anything more would be over-complicating already complicated things. He enjoys music (Jazz, R&B, classic rock, alternative, etc), the color blue, singing and playing instruments. He dislikes Rick's cereal jokes, slackers, bigots, artists who have forgotten their roots, and agents. Michael's favorite activity is camping.

Personal Quote:

"… Did you just waste fifteen minutes and two dollars getting here just to crack cereal jokes at me?"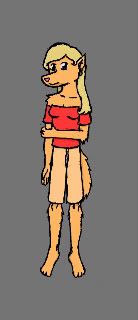 Name: Laura Calley

Age: 18

Birthday: January 27, 1991

Height: 5' 8"

Profession: (Future) College Student (Freshman)/ Clerk

Species: Dog

First Appearance: #30. It Was Gonna Be Chocolate, But ... Yeah....

Laura is a gifted person. She was home-schooled for the first part of her life, and graduated early. She's taken a two years off to work to get more money for college and to help her elderly grandmother. She will go off to college this fall to get a degree in Journalism. Laura met Rick while shopping in a boutique store. He convinced her to have lunch with him, where he introduced her to Sam and his other friends. She lives up the street from Michael and they and their grandparents hang out often. She doesn't love Rick, but does enjoy him as a friend. He's kind of annoying, but she can manage. She's a patron of the arts and loves the theater. Natural beauty is the best kind in her book, despite being a clerk at a make-up stand. She likes to read, and can oftentimes be seen with her muzzle in a book. Laura is a quiet person generally, but one of the nicest people you could ever know. She has this facade of innocence, but she knows what's going on; even if she doesn't show it. She likes being in the know, Ricks advances towards her, baking, and she dabbles a bit in ceramics. She dislikes insects and is allergic to pollen and peanuts. Her favorite activity is listening to Michael play the piano or his sax.

Personal Quote:

"Oh, an apple ... that's been partially eaten.... It's okay, Rick. It's the thought that counts...."




Name: Jason Stone

Age: 14

Birthday: September 13, 1994

Height: 5' 8"

Profession: Student (9th Grade)

Species: Red Kangaroo

First Appearance: #13. Who's Afraid Of The Big Black Panther

Jason is the youngest and the runt of his family (consisting of himself, his three brothers, and his parents) and has lived a fairly sheltered life. He's somewhat timid when he knows he's over his head in something, which is rare, so he comes off sort-of strong, despite trying to "be cool". A bit slow on the uptake, he may not know when he's worn his welcome and is being annoying, but he's learning ... slowly. He likes video games and several extended late night sessions have miraculously not ruined his vision as opposed to the other heavy gamer brother, James. Jason has an extensive graphic tee collection. He also has ADHD but is often on top of his meds, despite not like taking it. He feels it makes him boring and tired. Jason eats, sleeps, and breathes computer code. He wants to be a video game programmer one day. He is a Nintendo fanboy, but likes all games in general. Jason likes the internet, gaming, graphic tees, computers and comics. He dislikes contact sports, sports in general, most school classes, and taking his medicine. Alex helped rescue him from a group of bullies and he's developed a little crush on her. His favorite activity is gaming online, followed by looking up random funny things on the internet.

Personal Quote:

"Can I come too? My brothers left me."





MINOR CHARACTERS

X-Raunteers:

TBA.

Others:

TBA.





More characters to come?